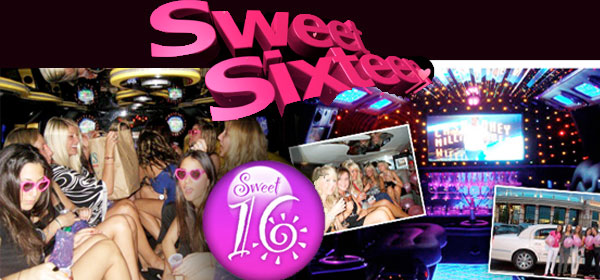 From the time you hold your little one in your hand and dream and wish for her bright future, to the day these dreams enter the eye of your young lady, there is nothing less special, about the sweet 16th birthday of a girl.   For almost ever, people in all regions of the world, feel great attachment with this special day and when it's actually around, there is absolutely no reason to hold the big celebrations.   If sweet 16 is what you have been thinking about for a while, there is always a Toronto limos to make the 16th birthday memories last forever. Your sweetheart deserves to travel in a posh sweet 16 limo on her 16th birthday.   An amazing Toronto limousine for the birthday girl and even thatfrom the best Toronto limo providing company,will make her remember this special event for the rest of her life.
Entrée like a Star

The sweet sixteenth year in a girl's life brings lots of wishes for entering into the real life with confidence and spark.   Sweet 16 is a time that fills the heart of a teenager with a spirit of embracing career paths and new feelings of womanhood.   Entering into this important zone of life is just the call for an amazing celebration with a fantasy party.   So why not enter and leave the party like a princess?   In a well maintained Toronto limo, hired from Toronto limos 416, with a suited and booted chauffeur, your princess turning 16 will live her fantasy.   Make it special for her friends as well by escorting them to the party venue in an executive class, luxurious Toronto limousine.   To make it sure that your young fairy's sweet 16th is the most remarkable experience of her life, Toronto limos 416 make sure to send a well-maintained Toronto limo with a highly professional and cultured chauffeur.   It is one hell of an experience to travel in a sweet 16 limo to a destination filled with passion, love, joy and friendship.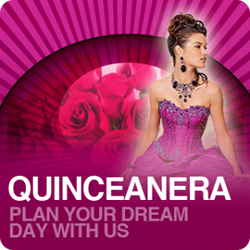 Quinceanera- On your way in a Toronto limousine.
Quinceanera is a time when a girl is just one step away from entering the zone of womanhood.   The fifteenth birthday of a girl, in Spanish people around the world, is considered as an important time for her to understand and accept her life transitions.   The amazing rituals lead the birthday girl to the path of celebration and happiness.
If it is about time for a Quinceanera in your family, add a special Spanish touch by hiring a stylish Toronto limousine, escort your princess and your family to the Church, in a luxurious Quincenara limo.   Toronto limos 416 can bring life and zest to your rituals.   Let the Senorita feel the passion, excitement, thrill and joy awaiting ahead for her; let her travel in a Quincenara limo to a Church where she may celebrate her special day, in the sweetest company of parents, siblings, friends, cousins and of course, God.
How you can make your sweet 16 or Quinceanera special?
Whether your destination is a high-class venue in a posh area of Toronto, or you want to be transported to a Church, for your daughter's Quinceanera, imagine a suited and booted chauffeur opening the door of a luxurious Toronto limo for you.   Imagine a stylish Toronto limo, taking your princess to a destination which she waited for.   An executive class Toronto limousine will let your princess travel in style and luxury, and make an entrée in one of the most important events in her life, with elegance.   Such an amazing Toronto limo luxury traveling deal will fill the heart of a birthday girl with happiness and positivity for the night and for the rest of her life.   Try it to believe it and to see your little princess happier than ever.