A wedding is something very old and traditional in nature. If you understand the spirit of this conventional relationship, and you have a heart for an old and classic style marriage, try a vintage Rolls Royce or Bentley limousine for the special day. Toronto Limo offers a fleet of stylish, old and gold Rolls Royce and Bentley limousines to complement your emotions and desires for a special day. Our very stylish and classic fleet of Vintage Bentley for rent Toronto, Unique Bentley Service and Bentley Wedding car offers you the convenience to choose from a stunning collection of luxurious limousines. Our antique and vintage Rolls Royce and Bentley limos are available at amazingly affordable rates, and they are driven by highly qualified and experience chauffeurs. If you are too touchy about arriving at your special day on time, Toronto Limos is the best choice. Our professional chauffeurs make it sure to make this your arrival memorable as well as timely.
Toronto Limousines provides special Vintage Rolls Royce for rent Toronto, for special people, who think that their marriage ceremony should be different than that of the crowd. Imagine about arriving at your marriage in a Vintage Bentley for rent Toronto, having hands in hands with your loved one. Imagine a suited and booted chauffeur opening the door of a vintage Bentley for you. While you would love to capture each and every moment of your special day through a high definition camera, you would not like to miss the chance to have a photo of you and your loved, dressed for this special occasion, one in front of a vintage Rolls Royce.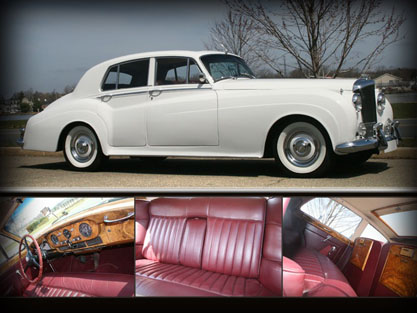 We assure that you get a dream Vintage Rolls Royce for rent Toronto with unparalleled services and at very affordable rates. Toronto Limos has a tradition of providing 100% customer satisfaction and we take pride of the services which we have provided so far to a very diverse clientele including married couples. So, if on this most special day of your life, you want some unique ride for your special one, Toronto Limos can do this for you. Your friends and family might forget everything about your marriage after a few years, but the photograph of a happy couple with a vintage Rolls Royce will be unforgettable!